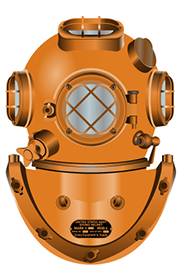 The late Joe Quintiliani ("Joe Q" to his friends) was a long-time Falmouth resident who had a distinguished career in the United States Coast Guard as a deep-sea diver, and a second career as a firefighter on Cape Cod. In recognition of his selfless service to the Veteran community, the Joe Q Veteran Coffee Break was named in his honor.
The Falmouth area Veteran coffee break concept was developed in June of 2016 by Joe and his friends who recognized the need to build fellowship among area Veterans and to provide them with vital information and guidance about programs and services available to Veterans.
Joe Quintiliani had a vision to improve quality of life for those who served by providing the support and information today's Veterans and their families need. Joe Q Veteran Coffee Break has set a course to make Joe Q's vision a reality for Falmouth-area Veterans and their families for many years to come.